These turned out decent. For Fajitas, I would normally use at least 2 different colors of peppers. I also ran out of fresh garlic. Horrors! Next time, I will have fresh garlic & use more seasoning. Or just shred the leftover pork and pour BBQ sauce over it. Nobody complained and these were eaten up.
Ingredients:
1 onion, sliced
1 red pepper, 1 yellow, orange or green pepper
juice from 1/2 lime
2 garlic cloves
fresh ground pepper
1 TBS olive oil
Tortillas
Cheese*
Sour cream*
avocado*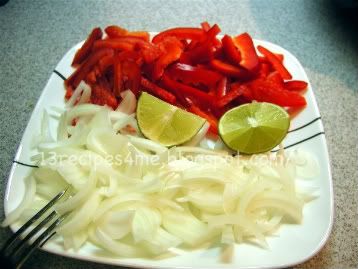 I like colorful food, and as I mentioned, was disappointed not to have more peppers.
Chop or slice up meat. Saute sliced vegetables & garlic in oil. Sqeeze lime juice over them. Slide to one side of pan, and saute meat. Add salt, pepper, other seasonings. Mix together of serve separate. Serve in warmed tortillas with sour cream, cheese, avocado, salsa or desired toppings.
*optional